I feel like the Lord wants me to show you…a friend with whom I feel some strange connection…my journals. Granted, not every single word of every single page…and probably not in order or with sense…but, well, there is something that the Lord wants someone to see.
I posted earlier today with joviality. Then I did a lesson that is wonderfully compatible with Thin Within–The Lord's Table. Today's lesson was on repentance. Oh…it was well-written and powerful and while the teaching is not new to me, the Lord used it to convict me powerfully afresh.
I can't pretend I understand the connection with that and the journals. but here are two pages…you will have to go off the blog site to see them large enough to read…I hope that this vulnerability isn't for naught. If God can take these tattered, shattered, broken pieces of my life from the past and use them to draw others…oh, Lord…so be it!

The first is from Feb. 9, 1999. Click on it to see the page full size from Photo Bucket. The second is the facing page of the journal, written a couple of weeks later.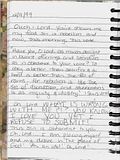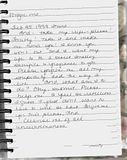 One friend asked me…what message do I share NOW. Is it the SAME as the one in the journal? Goodness. I hope it is clear from even a casual browsing in my blog here, that the message I share NOW, almost 10 years after these were written…THERE IS HOPE! GOD IS DOING A NEW THING…in YOU, reader…EVEN NOW! I share these journal pages because they show that I have been there. In fact, I was there for years. We don't have to stay there.

What is the way out? I believe it is moment by moment, surrendering to the Lord. In the moment, taking captive our thoughts, our actions, our beliefs…and asking HIM to BE Lord in our minds that he will be Lord in what we CHOOSE to do NOW.

As Christians, we have the freedom to choose to say no to sin in the moment. When I wrote the journal pages that you see, I didn't believe the significance of the moment. I was bogged down in all or nothing…and nothing was all I had…
What a weary traveler I was…for years.